4th December 2021 - Squad for Devon v Lancashire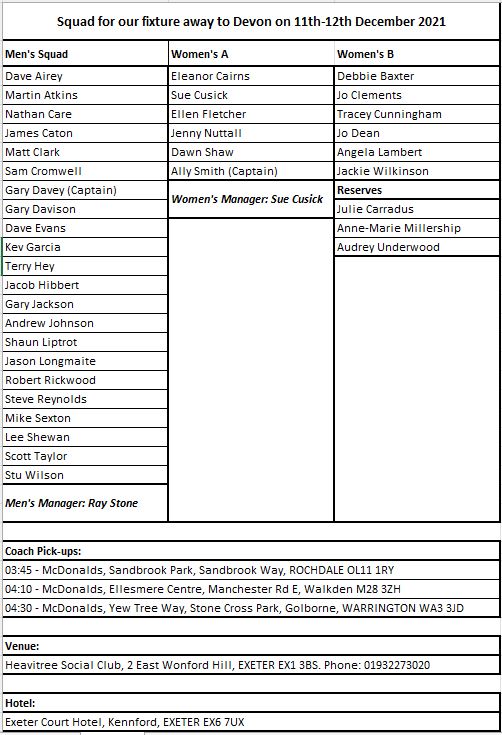 16th November 2021 - Men's Squad for Lancashire v Hampshire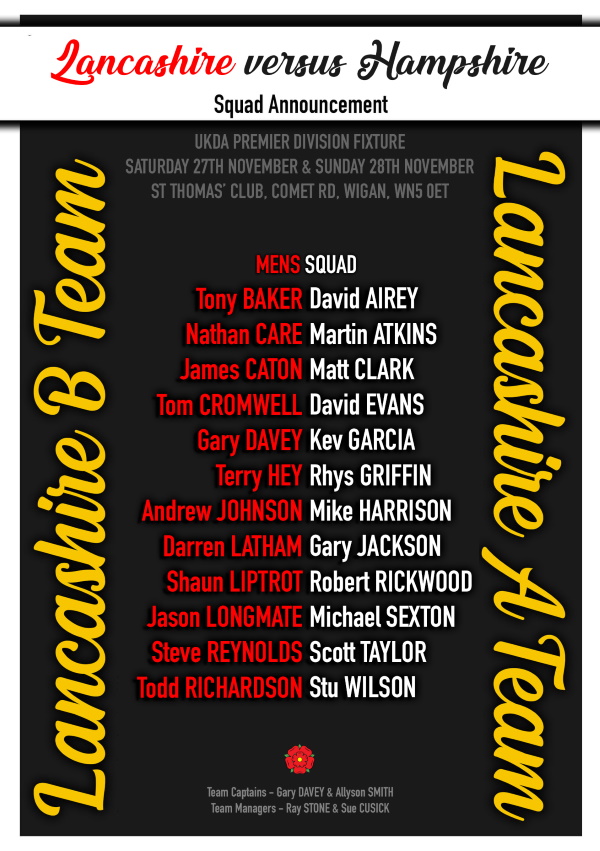 Reserves
Sam Cromwell, Gary Davison, Tony Newell
16th November 2021 - Women's Squad for Lancashire v Hampshire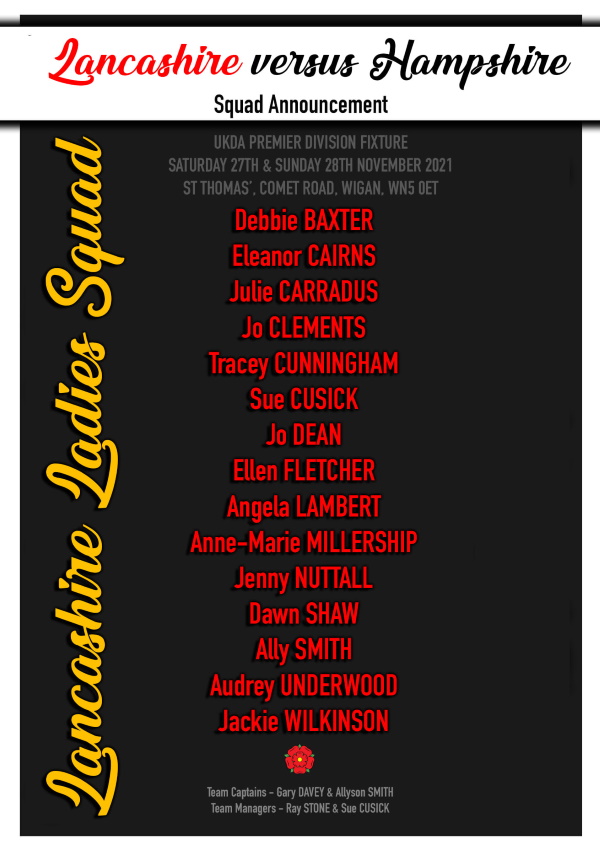 12th November 2021 - Steve "Pav" Jones, RIP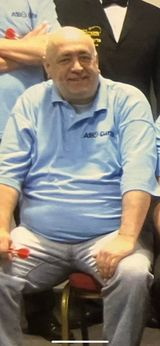 Lancashire Darts are sad to learn that Steve "Pav" Jones has passed away.&nbsp
For those taking their own car to the Essex venue
For those taking their own car to the Essex venue this weekend, we have received the following information&nbsp
Squad Selected for Essex v Lancashire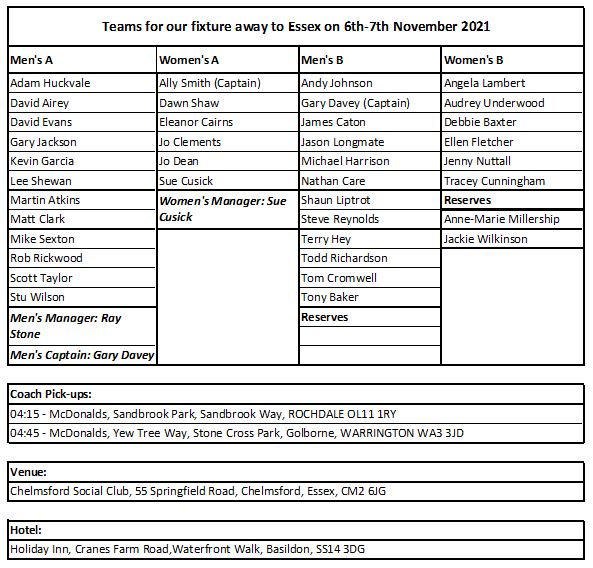 Dave Spencer, Funeral Arrangements
We have just been informed of the information for the funeral of David Spencer&nbsp
28th September 2021 - Dave Spencer, RIP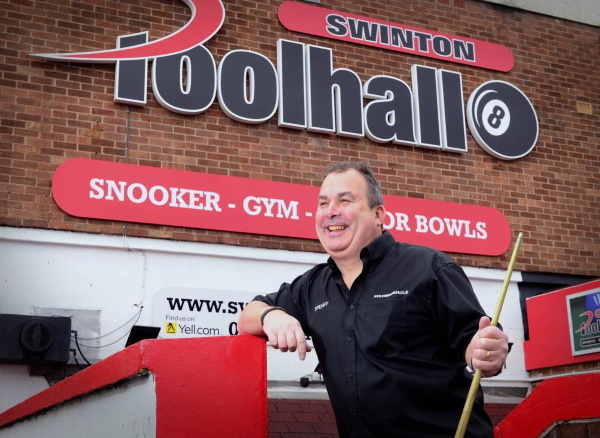 Today, we have been informed that our great friend and kind sponsor, Dave Spencer, has passed away.&nbsp
Squad Selected for Northamptonshire v Lancashire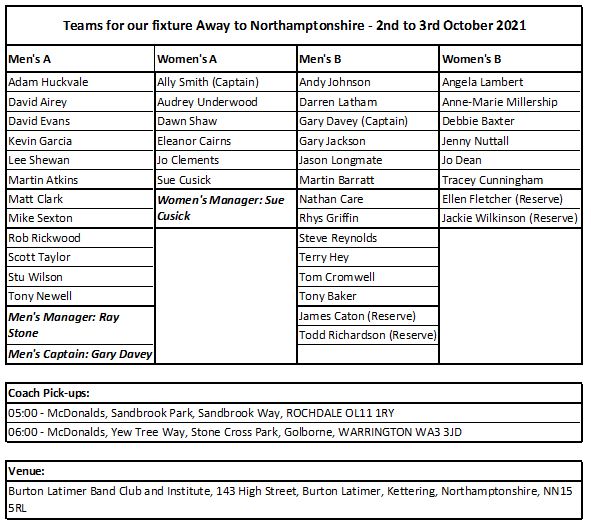 27th August 2021 - Lancashire v Glamorgan
Lancashire Darts have had a formal communication from the UKDA confirming that&nbsp
Superleague Fixtures for 2021-2022
Ladies Premier Division
Ladies Division One
Mens Fixtures will be published after the AGM on 25th July 2021.
National League (Inter-County) Fixtures for 2021-2022
The fixture list can be seen here.
12th August 2021 - Bert Millership, RIP
Lancashire Darts is sad to here of the passing of former county player Bert Millership.&nbsp
26th July 2021 - Former Team Managers Honoured
At the 2021 AGM held yesterday, Lancashire Darts Organisation confirmed that Maureen Parr and Doug Smith are to be offered Honorary positions.&nbsp
29th June 2021 - Steve Cusick, Honorary President
Since the sad passing of Malcom Poole at Christmas last year we have been without an Honorary President.&nbsp
28th June 2021 - Recent Committee Changes
Following the resignation of Doug Smith (see below) we can announce that Ray Stone is taking over the Men's Team Manager role.&nbsp
28th June 2021 - Doug Smith Steps Down
We are sorry to announce that our Mens Team Manager, Doug Smith, has chosen to step down.&nbsp
7th June 2021 - Sue Cusick Appointed Ladies Team Manager
Following the retirement of Maureen Parr (see below) we are delighted to announce&nbsp
4th June 2021 - Maureen Parr Steps Down
We are sorry to announce that our long-serving Ladies Team Manager, Maureen Parr, has chosen to step down.&nbsp
3rd June 2021 - Letter from England Darts
Lancashire Darts, being a member County of England Darts, recently received a letter detailing the benefits of membership for all of our players.You can see the letter here.
26th March 2021 - National League "Magic Weekend"
The 10th and 11th fixtures of the National League Season are going to be played over a single weekend.&nbsp
25th December 2020 - Malcolm Poole, RIP
Malcolm Poole, died 25th December 2020&nbsp
12th November 2020 - Alan Glazier, RIP
Alan Glazier, 21st January 1939 - 12th November 2020&nbsp
9th November 2020 - Andy Dowson, RIP
We have been informed by his family that Andy Dowson passed away&nbsp
17th September 2020 - Geoff Tucker, RIP
The news of a friends passing, is always hard to to take&nbsp
13th July 2020 - Lancashire Darts Joins UKDA
Following the votes cast by our membership, the Lancashire GMC Darts Organisation
5th July 2020 - Lancashire Darts Online Open
The first Lancashire Darts Online Open was played on Sunday 5th July
3rd July 2020 - Lancashire v Buckinghamshire
Lancashire played Buckinghamshire in an online County match on Friday 3rd July 2020.
Lancashire Inter-County History
Lancashire's Inter-County History is now available